Glad you could join us this month for the Paper Pumpkin Possibilities Blog Hop.
We love Paper Pumpkin and love to share our enthusiasm for this monthly box of fun and creativity with you. The Paper Pumpkin kit is designed so you can follow the instructions provided in the kit to make the projects, or use the supplies as a starting point to let your creativity run wild (as we have!) Hop along with us, as we will share alternate ideas on how we used the August Paper Pumpkin Kit: The Gift of Fall

Here is the kit as designed:
Stampin' Up! provided an Add On Bundle for those who prefer cards to bags. It was just cardbases and envelopes, here is what was in the bundle: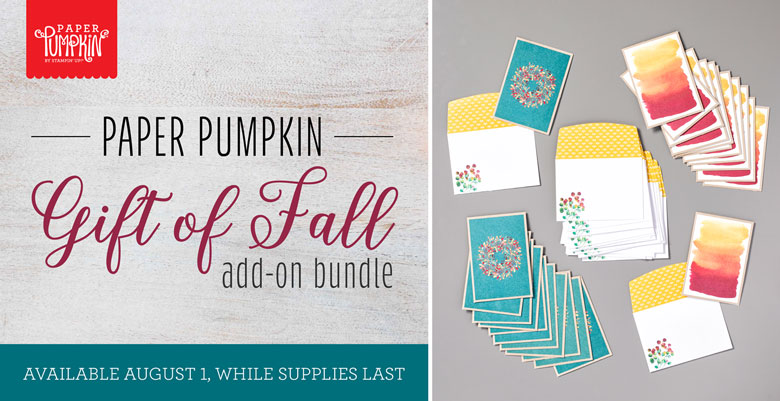 Here are my alternate designs:
I used the card fronts from the Add On Bundle and added embellishments from the kit, along with a little stamping. I love how this turned out and will probably make these up for my family for Thanksgiving cards...or maybe make into some fall birthday cards.
And you know me, I love to make boxes out of card fronts!
As soon as I saw the Add On card front with the leaves wreath, I thought, what a cute box that would make!
It holds 8 Hershey's mini's perfectly!
What else could you put in it?
I appreciate you visiting! Leave me a comment and let me know what you think of my projects. Then, click on the pumpkin below and hop on over to Shirley's blog to see what fun thing she has come up with to share with you!
This kit includes 20 food-safe treat boxes, a unique and exclusive Halloween stamp set, and a spooky, special-edition box. September's kit also gives new meaning to the word "handmade." (Cue the scary laughter! Bwahaha!)
If you have a demonstrator, contact them about signing up. If you don't, I would love to be it! You can click here to sign up with me:
http://bit.ly/2pnIV5R